WHAT IS BEST OF THE BEST?
Best of the best is a racing win bet type whereby the bettor is guaranteed the highest price of either the top fluc (top fluctuation) or the best of 3 totes. Best of the best bets must be placed before betting opens in the betting ring before a race. Best of the Best is also referred to as BOB.
Best of the best is hard to go past as a betting type. Whether the price is low or high you are guaranteeing yourself the best price.
WHY IS BEST OF THE BEST SO GOOD?
Best of the Best is the best racing bet type on the market. It guarantees punters the best price available for their bet. The key to successful betting is securing the best price for each bet; over the long run this will help you come out in front. If you have access to a bet type like Best of the Best or Top Fluc use it. These products provide much better value than other bet types. If you could lock in an interest rate 10% higher than anywhere else you'd do it no questions asked. The same goes for betting. The more you bet the more important the price you secure for each bet becomes.
BEST OF THE BEST BETTING EXAMPLE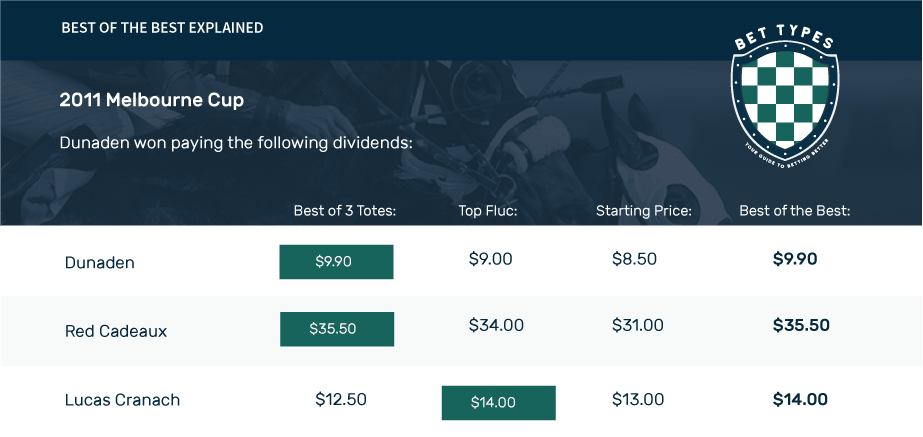 The example shows the tote prices, starting prices and top fluc prices from the 2011 Melbourne Cup. The best of the best price is far superior to all other prices. Generally the top fluc price will also be the BOB price, however sometimes the individual totes throw up some great value as was the case for the 2011 Melbourne Cup.
BEST OF THE BEST IS OFFERED BY THE FOLLOWING BOOKMAKERS
Currently, the Best of the Best bet type is only offered by Luxbet and Centrebet on Saturday metropolitan racing. For more information, see our bookmakers page.