WHAT IS BEST TOTE?
The tote (tab) runs different betting pools on the same events based on state jurisdiction. The Victorian tote dividends vary from the NSW Tab dividends and also the Unitab dividends. The best tote bet type offers punters the highest dividend of all 3 totes.
It should be noted that the totes take a higher margin from racing events than most bookmakers. For this reason, tote betting is not as effective as using a bet type like top fluc. However, punters can profit using a betting type like best tote where at least they are guaranteed the highest price paid by the 3 totes.
BEST TOTE = BEST OF 3 TOTES, CITY SUPER PRICE, CITY SUPER PLUS, SUPER BEST
Best tote is also known as: best of 3 totes, city super price, city super plus and super best. Like the better div bet type, the bookmakers each call the same product something slightly different.
WHAT IS BEST OF 2 TOTES?
Best of 2 totes is a bet type that pays the higher of the 2 totes, usually the Vic Tab and the NSW Tab. It is very similar to best tote except that only 2 totes are used instead of 3.
BEST TOTE BETTING EXAMPLE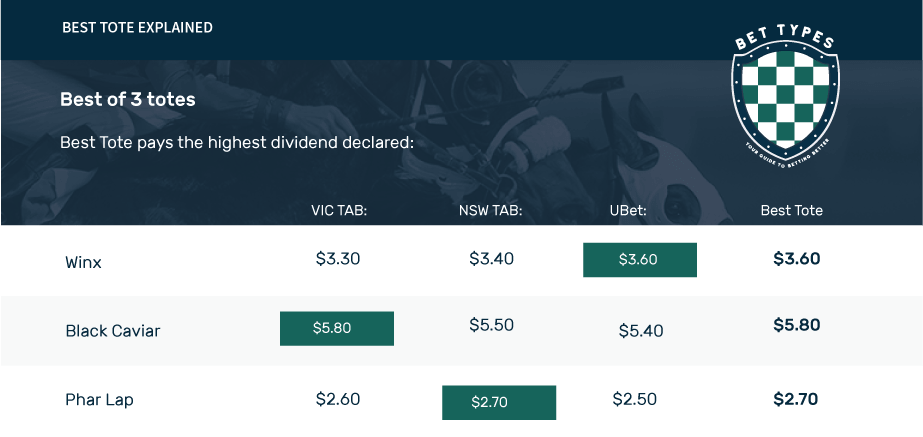 The example shows the variances between the 3 totes. The best tote is simply the higher of the 3 tote dividends.
BEST TOTE BETTING IS OFFERED BY THE FOLLOWING BOOKMAKERS
Only some bookmakers offer best of 3 totes: Iasbet – City Super Plus, Centrebet – Super Best and Sportsbet – City Super Price. Again, only some bookmakers offer best of 2 totes: Luxbet, Iasbet – Super Price and Sportsbet – Super Price . For more information, see our bookmakers page.