WHAT IS MARGIN BETTING
Margin Betting is a form of betting whereby the bookmaker breaks up the number of possible outcomes by adding a margin. The bettor must select the correct result as well as the correct margin. The margin can be either a short specific points range or it can be a broad range like + 15 points.
Margin betting is often confused with line betting, however the two are different. Both are popular AFL bet types, Afl line betting is explained in detail on the line betting page.
MARGIN BET
A margin bet involves selecting a team to win as well as selecting the correct margin. For example, if the bettor believes Team A will win, they then must select by how much they think they will win; Team A to win between 1 – 39 points.
MARGIN BET EXAMPLE – AFL MARGIN BETTING EXPLAINED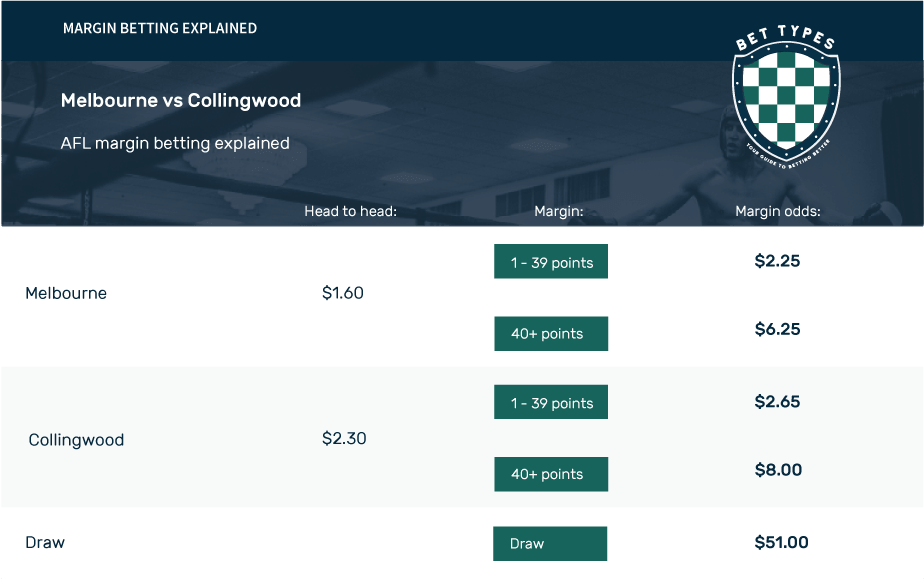 The example is of a game of AFL between North Melbourne and Essendon. North Melbourne are favourites to win the game at $1.60. The bookmaker has broken up the contest using margins so as to offer punters better odds and a variation on the game. There are now 4 possible results plus the draw!
If North Melbourne win by between 1 – 39 points the payout will be $2.15 for punters that took the 1 – 39 margin. This represents much better value than the $1.60 to win the match. However, If North Melbourne win by over 39 points the margin bet will NOT be successful.
MARGIN BETTING IS OFFERED BY THE FOLLOWING BOOKMAKERS
Margin betting is offered by all of the major bookmakers, popular sports include: AFL, NRL and basketball. Margin betting on all codes of football is very popular in Australia. For more information on each of the bookmakers recommended by Bet-Types, see our bookmakers page and then select a free bet to get you started.