Parlay betting is the process of linking several single bets together to form one parlay bet.
WHAT IS A PARLAY BET?
A parlay bet is the same as a multi bet whereby single bets are combined to create one bet at significantly higher odds. A successful parlay bet is dependent on all of the single bets being successful. The odds multiply with each bet that is added to the parlay. Whilst obviously more difficult to get, they offer far greater returns. A parlay bet is essentially the same as a multi bet.
OTHER PARLAY BETS
Some bookmakers offer slightly different forms of parlays whereby they will still payout a portion of the dividend even if one or possibly two outcomes lose.
PARLAY BETTING EXAMPLE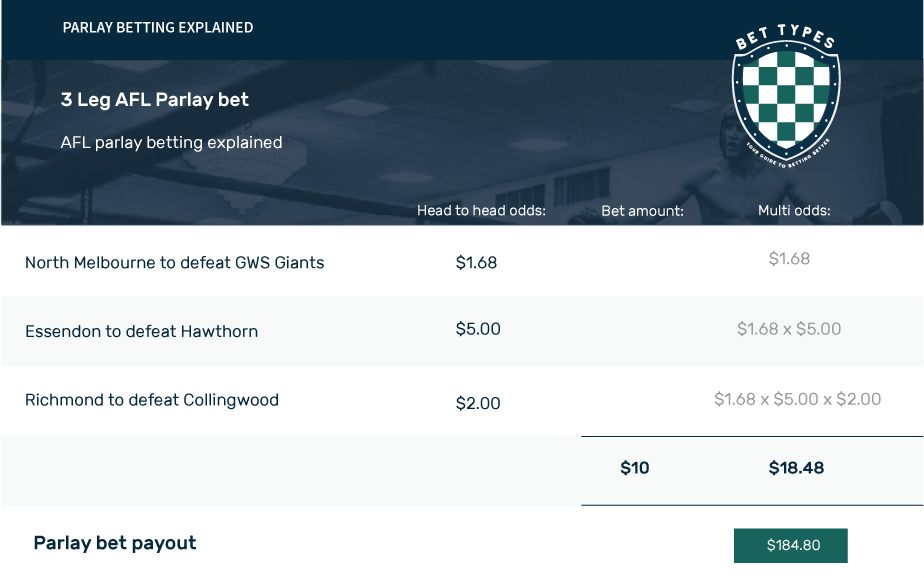 The example shows a 5 leg parlay bet where the bettor's 5 picks must ALL WIN for the parlay to be successful. The bettor selects 5 different matches with different odds to form the parlay bet. The odds multiply with each successful leg making the parlay bet a very powerful bet type. In this example, if successful, a $100 parlay bet would payout over $6,000.
PARLAY BET TYPES ARE OFFERED BY THE FOLLOWING BOOKMAKERS
All of the leading bookmakers offer parlay betting and multi betting. For more information, see our bookmakers page or visit our free-bets page.