WHAT IS TOP FLUC?
Top Fluc is a racing bet type that guarantees the bettor the highest price fluctuation for their selected runner in the betting ring during betting on the race. Top Fluc bets must be placed before betting opens in the betting ring roughly 30 minutes prior to a race. Top fluc is also referred as: the 'top fluctuation', 'best fluc' or 'best fluctuation'.
Top fluc is great a bet type. It guarantees punters the best price bet in the betting ring.
WHY IS TOP FLUC SUCH A GOOD BET TYPE?
Rather than try and wait for the fixed price to go out, simply bet using top fluc. There are many times when top fluc pays significantly higher than the starting price (SP) making it a great bet type to use when best of the best is not available.
TOP FLUC BETTING EXAMPLE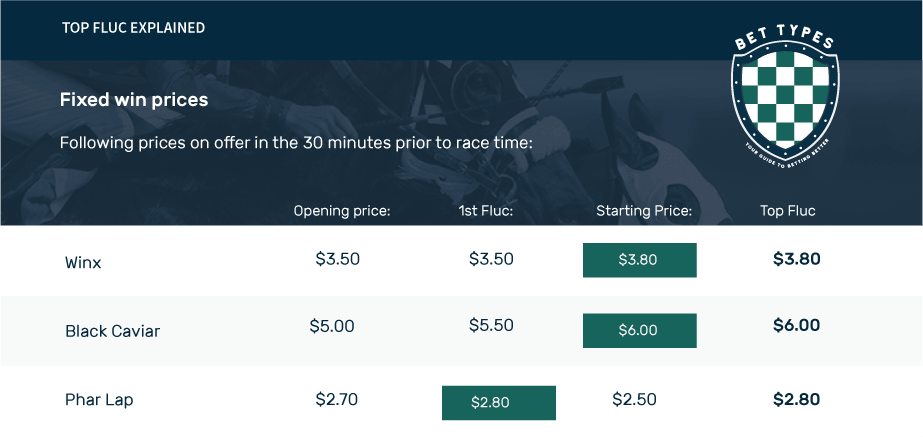 The example shows the fluctuations in betting in the lead up to the race. It's never easy to predict when the highest price will come so just use top fluc. The returns can be significantly better in the long run.
TOP FLUC BETTING IS OFFERED BY THE FOLLOWING BOOKMAKERS
All of the leading bookmakers now offer top fluc. The tote (Tab) does not offer top fluc. For more information, see our bookmakers page.